Shuogong Power is a leading transformer manufacturer and supplier in China. We design and manufacture a wide range of single-phase transformers, including single-phase isolation transformers and single-phase autotransformers, ranging from 50VA to 50KVA. Whether you need a single-phase transformer or a three phase transformer we can meet all your needs.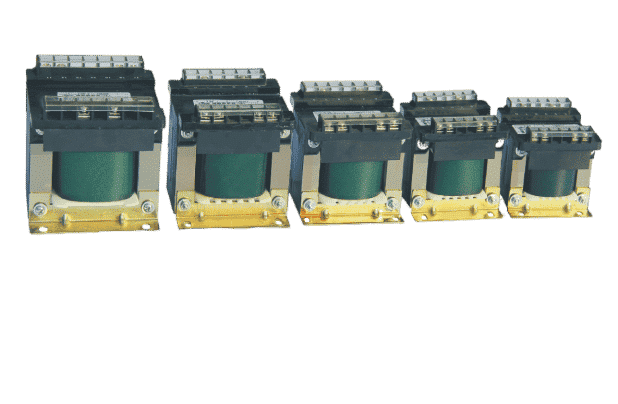 single phase transformer related products
Single Phase transformer model
The following are some common single-phase transformer model specifications, if the transformer you need is not in the list, you can contact us. Shuogong Power can manufacture transformers to meet all your voltage needs, including single-phase autotransformers, single-phase isolation transformers.
Basic Specifications
Capacity: 50VA to 50kVA
Phase: Single phase
Winding Material: Aluminum/Copper wire (Optional)
Work Efficiency: ≥95%
Primary Voltage: 220V AC (optional: 110V/ 120V/ 208V/ 230V/ 240V)
Secondary Voltage: 110V AC (optional: 120V/ 208V/ 220V/ 230V/ 240V)
Technical Specifications
Cooling Mode: Natural or air cooling
Insulation Resistance: ≥50 MΩ
Electrical Strength: 2000V AC/1 min
Noise: ≤35dB (1 meter)
Insulation Grade: Grade B (130℃), Grade F (155℃), Grade H (180℃)
Overload Capacity: Allow more than 1.2 times rated load to work for up to 1 hour
Induced Overvoltage Withstand Test: 125Hz/800V/min
Impedance Voltage: About 6%
Total Losses: 10%
Certification: CE, ISO
Temperature: -15℃~+45℃
Enclosure Protection Grade: IP20
Warranty: 12 months
Note:
Transformer can only convert voltage and CANNOT convert frequency.

Transformer CANNOT convert single phase to 3 phase voltage.

Support voltage customization, various specifications customization.
Without Case Size(length width height mm)
SHUOGONG is the best manufacturer of transformers and voltage regulators in China, you can choose standard transformer products or custom-made transformers and voltage regulators for special voltages.
Single Phase Transformer Buying Guide
1. What is a single phase transformer?
A single-phase transformer is a transformer that operates on a single-phase power supply.
A single-phase transformer consists of a magnetic core as the magnetic transformer part and the transformer copper winding as the electrical part.
A single-phase transformer is an efficient electrical device with very low losses as its operation does not involve any mechanical friction.
A single-phase transformer is a type of power transformer that utilizes single-phase alternating current, which means that the transformer relies on voltage cycles that operate in uniform time periods.
They are typically used to reduce long distance and local transmission currents to power levels more suitable for residential and light commercial applications.
The ratio of the primary (input) winding to the secondary (output) winding determines the change in current. Circuits can be isolated using a 1:1 ratio single-phase transformer.
Single-phase transformers obey Ohm's law and do not generate or remove power other than the tiny inherent losses due to heat.
2. Types of single phase transformers
There are many types of single-phase transformers. We commonly have single-phase autotransformers and single-phase isolation transformers.
The following transformer types are commonly used to accept and output single-phase AC power.
Audio transformer: removes ground noise from audio signals by encasing the transformer in magnetic shieldings.
Buck-boost transformer: this type of transformer adjusts a voltage level to device specifications. They are commonly used as circuit isolators.
Distribution transformer: this is the oft-seen, pole-mounted transformer that steps-down current for light-duty electrical applications.
Industrial control transformer: supply power to constant-current or constant-voltage devices that may be sensitive to variations in electrical supply, such as solenoids, relays, or other electromechanical devices.
3. How a single phase transformer works
The operation of a transformer is based on the principle of mutual inductance between two coils wound on the same magnetic core.

When an alternating voltage (V1) is applied to the primary winding, an alternating magnetic flux (Φm) sets up in the core and links with the secondary winding.
I.e. The magnetic flux links both the windings of the transformer magnetically. This magnetic flux induces EMF E1 in the primary winding and E2 in the secondary winding according to Faraday's law of electromagnetic induction.
4. What is the purpose of a single-phase transformer?
A single-phase transformer is frequently used for power distribution and voltage reduction for residential and commercial applications.
When used with appliances, the lower voltage output is often rectified into DC current before powering appliances, such as a computer.
Single-phase transformers are widely used, usually used in industrial control, lighting, medical industry, power and other industries.
5. How to connect a single phase transformer?
Single phase transformers, like other electrical devices, may be connected into series or parallel arrangements.
For example, distribution transformers are normally wound with the secondary or low-voltage windings that can be connected in series or parallel.
The availability of primary voltages and the requirements of the load dictate how the transformer will be wired.
6. What are the advantages of a single phase transformer?
A single-phase transformer is a device that uses the principle of electromagnetic induction to change the AC voltage. The main components are the primary coil, the secondary coil and the iron core (magnetic core).
Advantages of single phase transformer:
The cost of stand by the unit transformer is reduced.
Any transformer can be switch off or maybe depending on their load demand.
If two ad more transformer are connected in parallel the service continuity ensures and the system becomes reliable.
If more transformed works in parallel the chance of overloading of particular transformer reduces.
Single Phase systems have a less complex design.
Design cost is less in SP systems cost less in designing
SP has enhanced efficiency that Delivers AC power supply of about 1000 watts efficiently
SP systems are employed in multiple kinds of industries and applications.
7. What are the disadvantages of single-phase transformers?
Single-phase transformers cannot supply electricity for three-phase loads in areas and traction substations. In the power system, the negative sequence current generated by single-phase traction loads is relatively large, and the power supply to the catenary cannot achieve bilateral power supply.
Disadvantages of single phase transformer:
The maintenance cost becomes more.
The space required for installing the transformed is more.
When one or more transformer works on a parallel then chance of fault occurrence will e increased.
The protective device of the transformer is more.
8. What is the difference between a single-phase transformer and a three-phase transformer?
single phase transformer
When a pair of coils, a primary and a secondary are used to generate the required voltage, it is called a single-phase transformer.
It consists of two high-inductance coils wound on an iron or steel core, the winding connected to the AC power source is called the primary winding and the other is called the secondary winding.
Single-phase transformers are often used for residential needs as they convert high voltage to low voltage, like step-down transformers and are best suited for residential and office needs.
three phase transformer
Three-phase transformers can be divided into 3 phase autotransformers and 3 phase isolation transformers.
Three-phase transformers are made by winding three single-phase transformers around one iron core.
A three-phase transformer contains six coils, three for the primary side and three for the secondary side, and all three coils are separated from each other by an angle difference of 1200, in order to achieve the specified voltage, the transformer is then placed in an enclosure And stuffed with insulating oil.
Known for their efficiency, three-phase transformers meet the needs of heavy duty applications that are most suitable for heavy industrial applications and are highly reliable.
9. How to choose a single-phase transformer that suits you?
First of all, please confirm the following requirements for single-phase transformers. Only after you have determined your own needs, can you choose a transformer that suits you.
For example what is your input voltage and output voltage? What is your total power?
Only by determining these two data can a suitable single-phase transformer be selected.
If you do not have the transformer you need, you can also contact the transformer manufacturer for customization. Shuo gong can provide such services.
10. How do single-phase transformer manufacturers and suppliers choose?
We all know that there are many transformer manufacturers and suppliers in the world, so how should we choose?
First of all, you must consider the technical level of the transformer manufacturer, whether it has a strong R&D capability, and whether it can meet your needs, especially the needs of some special voltages.
Second, you should consider the cost of the transformer, including the price of the transformer, the transportation cost of the transformer, etc.
In addition, the material used in the transformer is very important. Be sure to confirm with the transformer manufacturer and supplier whether aluminum wire or copper wire is used.
When we choose transformer manufacturers and suppliers, we should not be greedy for temporary cheapness. Many transformer manufacturers use aluminum wire transformers as copper wire transformers to sell.
In addition, the after-sales service of the transformer should also be considered. Although the probability of transformer problems is relatively low, we still have to take this problem into account. What are the after-sales capabilities of transformer manufacturers and suppliers? Can you provide return and exchange services? These are very important.
11. What is the price of a single phase transformer?
What is the price of a single phase transformer? The price of single-phase transformers is relatively wide.
If you want to know the price of your single-phase transformer, first you need to know your input and output voltage and total power, and choose single-phase transformer through these parameters.
This will allow you to get the correct single-phase transformer quote.
Below I have listed the market prices of some commonly used three-phase transformers. for reference only.
This price does not represent the price of Shuogong single-phase transformers. If you have a demand for the price of our transformers, you can contact us to inquire.
| | | |
| --- | --- | --- |
| Items | Price  | Capacity |
| BK500VA single phase transformer | $273.08 | 500VA |
| BK800VA single phase transformer | $325.69 | 800VA |
| BK1KVA single phase transformer | $276.31 | 1KVA |
| BK2KVA single phase transformer | $456.24 | 2KVA |
| BK3KVA single phase transformer | $597.69 | 3KVA |
| BK4KVA single phase transformer | $754.17 | 4KVA |
| BK5KVA single phase transformer | $864.62 | 5KVA |
| BK6KVA single phase transformer | $966.92 | 6KVA |
| BK8KVA single phase transformer | $1,121.54 | 8KVA |
| BK10KVA single phase transformer | $1,321.54 | 10KVA |
12. Which transformers can Shuogong supply?
Shuogong has rich manufacturing experience in the field of transformers, we can supply all kinds of three-phase transformers, single-phase transformers and voltage regulators. Whether you need a single-phase isolation transformer or a single-phase autotransformer, we have the best products.
Our transformers support all input and output voltages, if you don't find the voltage or power you need in the parameter sheet, please contact us. We can customize any transformer product to meet your needs.
13. How to order SHUOGONG three-phase transformer?
SHUOGONG can meet all your transformer needs, we support customized voltage and power, we also support OEM.
You can get a quote for your transformer by contacting us via the contact form or email.
Our transformer experts will provide you with the most professional technical solutions and quotations for transformers.