For more than 10 years, Shuogong Power has been committed to providing customers with power supply product solutions.
As a leading manufacturer and supplier of AC/DC power adapters in China, our high-quality power adapters have won praises from many customers.
The power adapter is one of the core products we produce. The power adapter produced and supplied by Shuogong will surely provide stable support for your business.
Shuogong will support your business 100% with strong R&D strength and manufacturing capabilities, and get your AC/DC power adapter price as soon as possible.
No matter what type of power adapter you need, we can meet your needs and provide high-quality products.
AC Power Adapter Manufacturer Product Supply
AC/DC power adapter Parameter specification
Shuogong power adapter is made of PC fire-retardant and flame-retardant material, with high-gloss surface technology, beautiful and durable.
The shell is made of a combination of frosted and smooth mirror surface, which makes it feel better when picked up.
Built-in multi-function chip, automatic power failure protection in case of short circuit high voltage and other safety hazards, and automatically resume work after safety.
Products are classified by country and can provide specifications for various countries such as China, the United States, the United Kingdom, Europe, Japan, and South Korea.
There are a variety of DC connectors to choose from.
Model
AC05
Color
White/Black
Input Voltage
100-240VDC
Input Current
12V/0.1-1A
5v/0.1-2.4A
Power
12W
Certification
CE,GS,ROHS,TUV
Size
57×37×29mm
Connector
2.5×0.7mm,3.5×1.35mm,4.0×1.7mm,5.2×2.1mm,5.2×2.5mm,Micro
Let Shuogong be your power adapter factory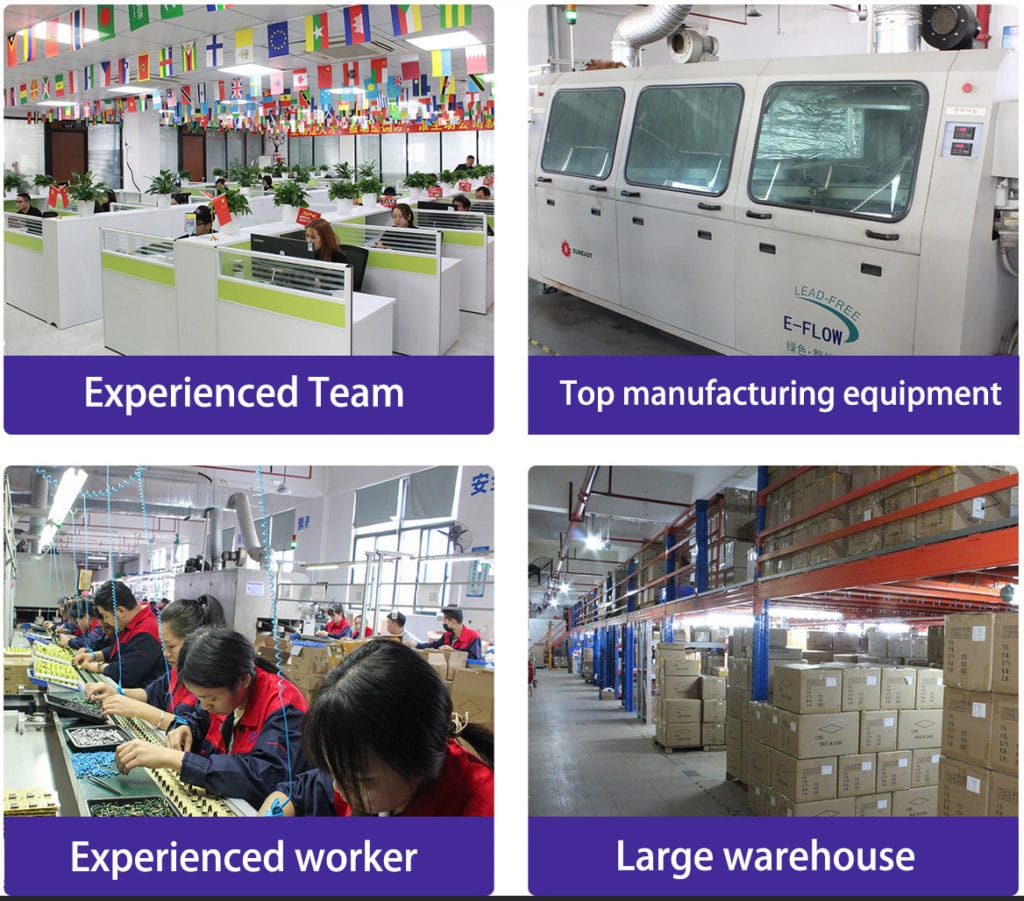 Shuogong is the best power adapter manufacturer
Various plug options
We manufacture power adapters that can be used with sockets around the world, whether you are in Europe, the United States or Japan and Korea, we can meet your needs.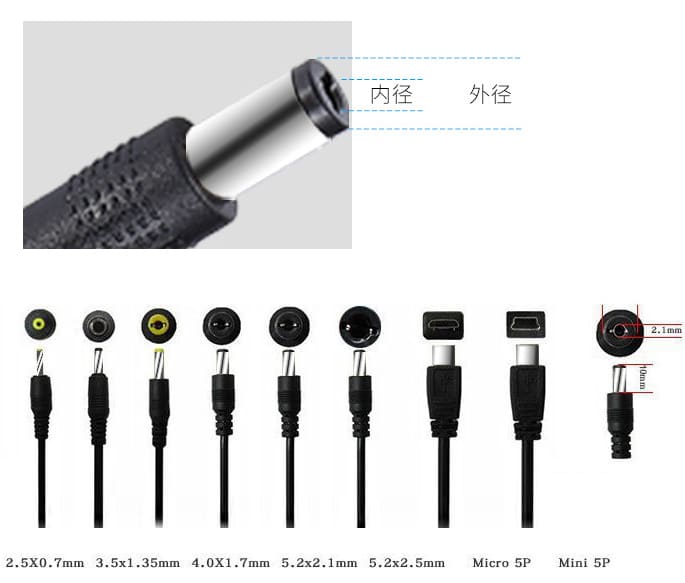 Various ports are optional
Our power adapters cover all the most common interfaces on the market at present, welcome to customize and OEM


Wide range of applications
Whether you are using it for monitors, routers, switches, cameras, etc. our power adapters can meet all your needs. Let us be your power adapter factory.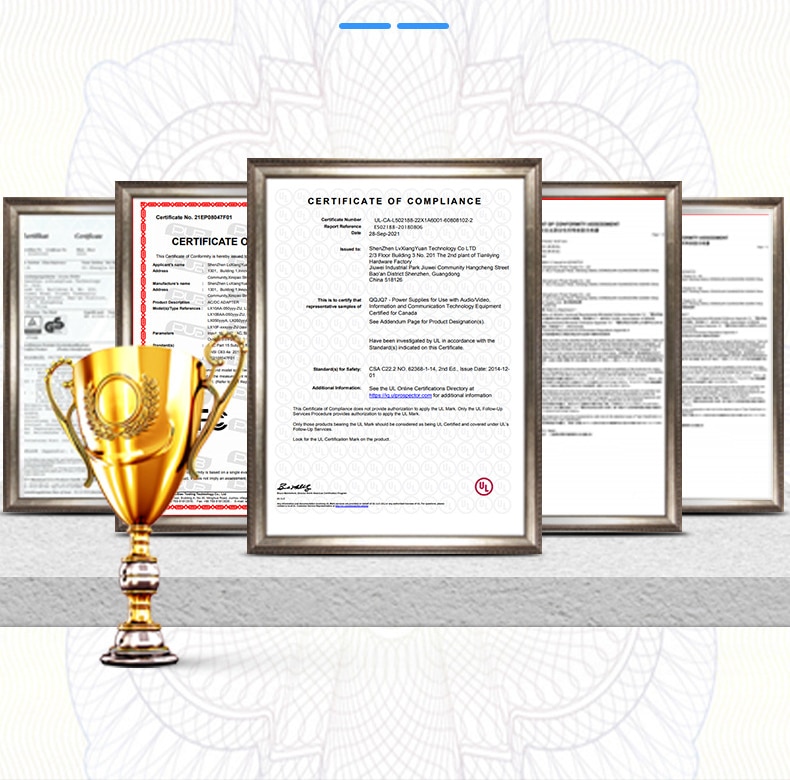 Comprehensive certification
Our products have passed compliance certifications in many countries to meet your local certification needs, so you can use them with confidence.
Best component
Our power adapters are all manufactured with the best electronic components, with strong anti-interference ability, stable radiation protection voltage, and low loss.


Best PCB design
Excellent PCB design. Adopt environmentally friendly lead-free soldering process, in line with environmental protection requirements. High-precision power management chip ensures stable voltage and accuracy.

Best wire
The wire core is made of pure copper, which has better transmission speed. Sturdy and resistant to bending

Quality Assurance
Our power adapters will go through the most stringent quality inspections before shipment, including incoming inspection, manufacturing process inspection, aging test, etc. Guarantee 100% qualified delivery of products to customers.
AC/DC Power Adapter Buying Guide
The AC power adapter is a device required by most electrical products or digital products.
Shuogong has very rich experience in the field of power adapter manufacturing.
If you want to start a power adapter business the following content can help you.
We introduce power adapters to you from various fields of power adapter design, manufacturing, application, and testing.
1. What is a power adapter
A power adapter, also known as an AC adapter or mains charger, is an external power supply for a device.
They are used to power devices that don't have a built-in battery or that need to be charged regularly.
Power adapters come in all shapes and sizes; they can be small and compact like the one pictured above, but you'll also find larger ones that plug directly into the wall socket.
Power adapters are powered by electricity from the electricity network (also known as "the grid").
A power adapter, also known as an AC adapter or mains charger, is an external power supply for a device.
2.What are AC power adapters and DC power adapters?
The AC in the name simply means that it converts the alternating current from your building's electrical source into the direct current used by your device.
The DC in the name of a power adapter, refers to direct current. This is a type of electricity that flows in one direction and keeps flowing as long as there's enough voltage pushing it along.
There are many types of adapters—such as USB-C cables or HDMI cables—but they all do basically the same thing: allow you to connect one thing to another thing that isn't designed for each other.
3. How the power AC adapter works
All in all, a power adapter converts AC to DC power.

Inside the AC adapter are two windings wound around a core.
The first winding receives the 120 volts AC delivered to the electrical outlet and creates an electric field in the iron core.
The second winding turns the newly created electric field into a smaller alternating current.
The measurement of the alternating current produced depends on the number of coils in the second winding relative to the number in the first winding.
If the second winding is half the size of the first, the AC current will be measured to half as much as it entered the AC adapter.
So if the first winding has 100 coils, the second winding will only have 50 coils.
4. AC/DC Power Adapter Sales Price
Everyone must be very concerned about the sales price of AC/DC power adapters.
Below we have sorted out the prices of power adapters sold on some e-commerce platforms for your reference.
These power adapter prices do not represent the price of power adapters manufactured by Shuogong.
Shuogong is a leading manufacturer of power adapters, you can contact us for preferential factory prices.
| | | |
| --- | --- | --- |
| Items | Price | source |
| 22W 16V 2.2A power adapter sales price | $15.9 | amazon |
| 24W 12V 2A power adapter sales price | $12.99 | amazon |
| 12V 3A power adapter sales price | $14.99 | amazon |
| AC/DC Power Adapter for Wireless-AC | $14.84 | amazon |
| 6V 6A power adapter sales price | $9.99 | amazon |
| 6V 1A power adapter sales price | $7.99 | amazon |
| Security-01 AC to DC 6V 1A Power Supply Adapter, Plug 5.5mm x 2.1mm, UL Listed FCC sales price | $9.99 | amazon |
| Gonine 6V AC Adapter Power Supply, for Omron Healthcare Upper Arm Blood Pressure Monitor 5 7 10 Series, Voyager Radios KA500, AT&T Vtech Cordless Phone Charger DC Cord sales price | $7.99 | amazon |
4. What does a power adapter do?
Power adapters are very common in our daily life, and power adapters are required to connect the power supply of electronic devices around us. The power adapter has the following functions:
Power adapters convert AC power to DC power.
Power adapters are used to power devices that use DC power.
5. What are the benefits of using a power adapter
Using a power adapter has the following benefits:
power adapters are more portable than other adapters
They are more powerful
They are more reliable
They are more efficient
Safer with a power adapter
6. What are the application fields of power adapters?
Power adapters are widely used in various electronic devices such as mobile phones, notebook computers, routers, switches, monitoring equipment and other devices that need to be connected to AC power.
Power adapters can be said to be closely related to each of our lives.
7. What are the manufacturers of AC/DC power adapters?
At present, most of the power adapters on the market come from China.
China has a very complete industrial chain in the field of power adapters.
There are many manufacturers of power adapters on the market.
There is no particularly prominent power adapter brand in this space.
Shuojie is a power adapter factory in China, we are committed to solving any power adapter problems for our customers.
If you need a power adapter, no matter what country you are in, as long as you make a request, we can manufacture a product that will satisfy you 100%.
At the same time, we accept OEM customization to become your exclusive brand of power adapter.