3 Phase Isolation Transformer
Shuogong Power is a leading 3-phase isolation transformer manufacturer and supplier in China. We design and manufacture a wide range of 3 phase autotransformers and 3 phase isolation transformers, ranging from 0.5VA to 500KVA. Our 3-phase isolation transformers are versatile enough to meet your various voltage conversion needs. We also accept a variety of non-standard voltage customization, and our strong R&D team is at your service at any time. Welcome to contact us for 3-phase isolation transformer prices.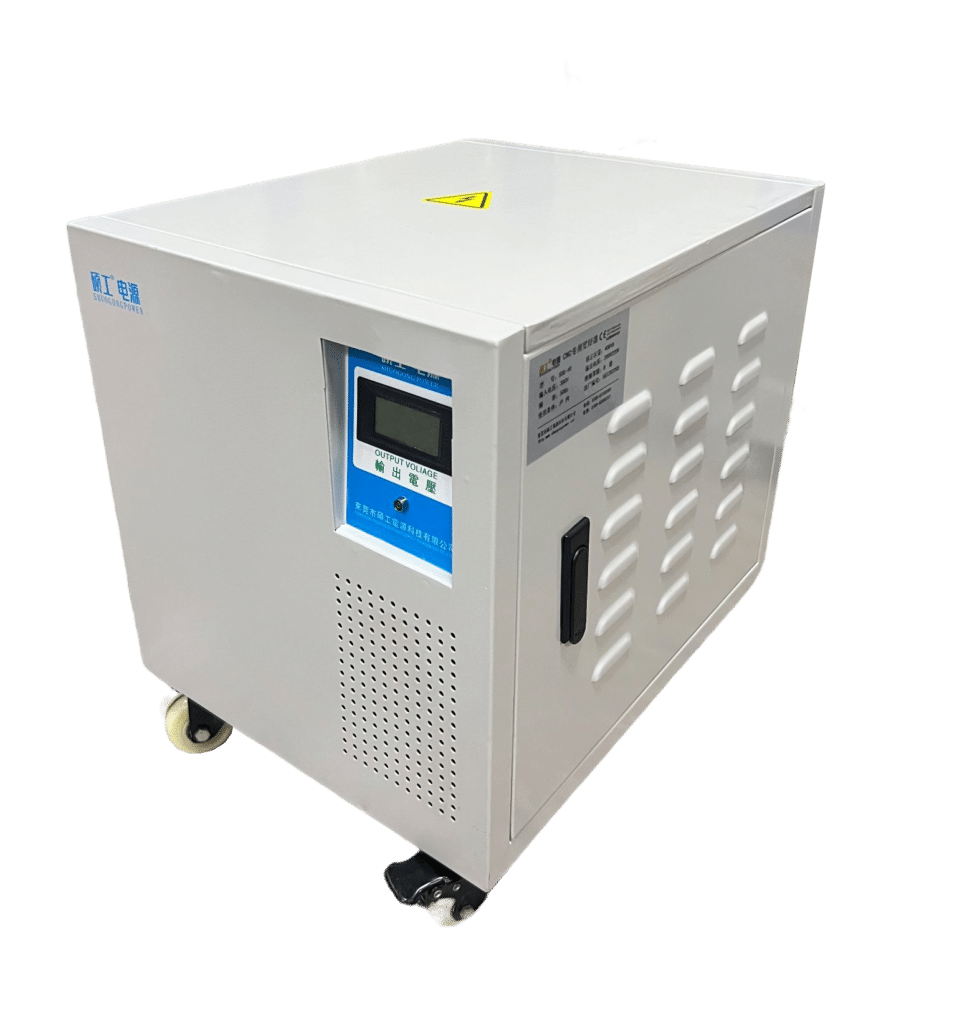 3 phase isolation transformer related products
3 phase isolation transformer Technical Parameters
ShuoGong three phase transformers are dry-type transformers which made of high-quality materialsand advanced technology, is designed to step up / step down the voltage as per requirements and can be directlyinstalled and used in loads of different properties.
Our isolation transformers available with 2 shapes: Open type thatwithout the enclosure and protected type with IP24 enclosure.
Isolation transformers are dual-winding transformers, which not only have a voltage-transforming function in the powergrid, but also can safely isolate the input windings and output windings electrically to avoid touching live parts at thesame time (or metal parts that may be charged due to insulation damage).And the danger brought by the place, canisolate the third harmonic of the power grid to the equipment, protect the heat generated by the machine and prevent thelife of the insulation material from reducing, and play a certain role in suppressing various interference.
ShuoGong isolation transformer has wide range capacity from 0.5kVA to 500kVA, is suitable for low-voltage power distributionplaces with AC 50Hz or 60Hz and input / output voltage within 1000V. It is often used for various imported equipmentand electrical equipment that requires special voltage. Capacity, input & output voltages, connection group, position oftapping changes, auxiliaries and so on, all above can be customized.
| | |
| --- | --- |
| Model | Isolation Transformer |
| Phase | 3 phase |
| Capacity | 0.5KVA to 500KVA |
| Primary Voltage | 380V (Optional: 120V/ 190V/ 208V/ 220V/ 230V/ 240V/ 380V/ 400V/ 415V/ 480V) |
| Secondary Voltage | 200V (Optional: 120V/ 190V/ 208V/ 220V/ 230V/ 240V/ 380V/ 400V/ 415V/ 480V) |
| Frequency | 50Hz / 60 Hz |
| Winding Material | Aluminium/Copper wire (Optional) |
| Work Efficiency | ≥95% |
| Insulation Resistance | ≥50 MΩ |
| Electrical Strength | 3000V AC/1 min |
| Noise | <35-65dB (1 meter) |
| Insulation Grade | H level |
| Wiring Mode | Dyn11 |
| Cooling Mode | Dry type air cooling |
| Overload Capacity | Allow more than 1.2 times rated load to work for up to 4 hours |
| Enclosure Protection Grade | IP 24 |
| Certificate | CE |
| Warranty | 12 months |
| Temperature | -15℃~+40℃ |
| Humidity | ≤90%RH, without condensation |
| Altitude | <1000m, non corrosive gas and conductive dust |
Without Case Size(length width height mm)
SHUOGONG is the best manufacturer of transformers and voltage regulators in China, you can choose standard transformer products or custom-made transformers and voltage regulators for special voltages.
3-phase isolation transformer Buying Guide
1. What is a 3-phase isolation transformer?
An 3 phase isolation transformer is a transformer which is used to decouple two circuits, with the transformer coil windings designed for an input/output voltage of 240/240V.
3 phase Isolation transformers allow an AC signal or power to be taken from one device and fed into another without electrically connecting the two circuits. Isolation transformers block transmission of DC signals from one circuit to the other, but allow AC signals to pass. They also block interference caused by ground loops.
2. 3 phase isolation transformer working principle
The 3 phase isolation transformer does not change either the power or the voltage and current levels. Instead, it provides an extra degree of protection to the distribution system for those circuits that are set aside for access by other than engineering personnel and the circuits that are available for unspecified electrical apparatus.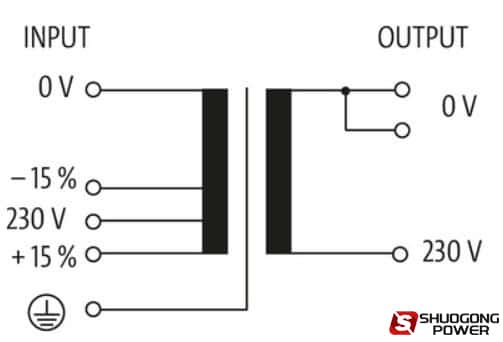 In an 3 phase isolation transformer, the primary voltage value will be equal to the secondary and the two windings will have the same number of turns to compensate for losses.
3 phase isolation transformer can reduce the capacitance of the primary wiring and secondary wiring. In general, there is an isolating circuit between the primary winding and the secondary winding of the isolation transformer. But if the frequency is high, there will be static interference usually on both sides.
Such interference can be avoided by placing the primary winding and secondary winding of the isolation transformer on different cores. In this way, the capacitance between the two can be reduced. Their positions have certain principles and functions. Concentric placement will cause static shielding, which has high anti-interference.
3. Uses of 3-phase isolation transformers
3 phaes Isolation transformers provide separation from the power line ground connection to eliminate ground loops and inadvertent test equipment grounding.
They also suppress high frequency noise riding on the power source.
As a protection device, 3-phase isolation transformer plays a very important role in protecting personal safety and isolating dangerous voltages.
The low coupling of the output and input capacitors of the 3-phase isolation transformer can suppress interference caused by grid noise such as lightning, discharge, grid switching, and motor startup. Therefore, it is an effective power supply noise suppressor.
From this point of view, the 3-phase isolation transformer has stronger protection ability for equipment. Since the electromotive force of the isolation transformer is obtained through secondary induction, it does not form a circuit with the primary side (forms a circuit with the ground), and will not cause electric shock.
4. 3 phase isolation transformer wiring diagram
The primary and secondary windings of a 3 phase isolation transformer can be connected in different configuration as shown to meet practically any requirement. In the case of 3 phase isolation transformer windings, three forms of connection are possible: "star" (wye), "delta" (mesh) and "interconnected-star" (zig-zag).
The combinations of the three windings may be with the primary delta-connected and the secondary star-connected, or star-delta, star-star or delta-delta, depending on the 3 phase isolation transformers use. When transformers are used to provide three or more phases they are generally referred to as a Polyphase Transformer.
5. What are the specifications of the three-phase isolation transformer?
The specifications of the 3-phase isolation transformer manufactured by Shuogong are:
0.5KVA 3-phase isolation transformer
1KVA 3 Phase Isolation Transformer
2KVA 3-phase isolation transformer
3KVA 3-phase isolation transformer
5KVA 3 Phase Isolation Transformer
8KVA 3 Phase Isolation Transformer
10KVA 3-phase isolation transformer
15KVA 3-phase isolation transformer
20KVA 3-phase isolation transformer
25KVA 3-phase isolation transformer
40KVA 3-phase isolation transformer
In fact we can manufacture 3-phase isolation transformers from 0.5KVA to 500KVA. Specific specifications can be found in our data sheet, and we also accept customization of various transformers.
6. 3 phase isolation transformer advantages
Although the 3-phase isolation transformer is more expensive than the 3-phase autotransformer, it has many advantages.
3-phase isolation transformer which can be used to protect people from the danger of electric shock
Blocks the transmission of DC signals from one circuit to another and allows AC signals to pass through
Interference caused by ground loops can be blocked
Isolation transformers with electrostatic shields can be used to power sensitive equipment
They are used as safe power transformers in electronic testing and repairs
They are used to power equipment not at ground potential
It reduces ground leakage from equipment used in wet locations
7. 3 Phase Isolation Transformer Disadvantages
The same 3-phase isolation transformer also has certain shortcomings, let's take a look at it below.
When the 3-phase Isolation Transformer operating as Pulse Transformer and it operate at low frequency there is distortion produces in secondary or output waveform.
When 3-phase isolation transformer operating at DC pulse signal, the saturation property of the core reduces.
3-phase Isolation Transformer specially designed, that is why it is costlier than a normal transformer.
8. 3 phase isolation transformer prices
3 phase isolation autotransformers are available in a wide range of prices. First of all, if you want to buy a 3 phase isolation autotransformer, you must first select the power and input and output voltage of the transformer.
This will allow you to get the correct 3 phase isolation autotransformer quote.
Below I have listed the market prices of some commonly used 3 phase isolation autotransformers. for reference only.
This price does not represent the price of Shuogong transformers. If you have a demand for the price of our transformers, you can contact us to inquire.