Shuogong Power is a leading transformer manufacturer and supplier in China. Our 3KVA transformers are economical. It can convert the most complete voltage such as 480V to 120V, 240V, etc. There are two types of 3KVA isolation transformer and autotransformer. Whether you need a single phase 3KVA transformer or a three phase 3KVA transformer, we can meet your needs well. Contact us for a price or quote for a 3KVA transformer.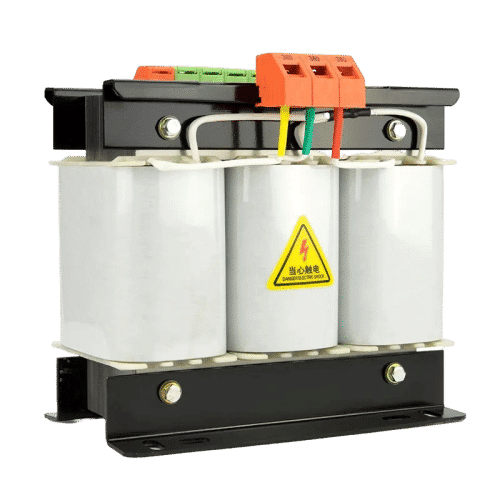 3KVA transformer related products
3KVA Transformer Technical Parameters
3KVA transformer for sale. Rated capacity 3kVA, input voltage 380V, input current 8A, output voltage 220V or 200V, output current 2.6A or 2.8A, frequency 50/60Hz.
There are two types of 3KVA autotransformer and 3KVA isolation transformer. 3KV single-phase transformers and three-phase transformers are also available.
Three-phase transformer application:
Three-phase transformers can be used in CNC machine tools, SMT, printing machines, EDM machines, automatic plug-in machines, precision measuring equipment, laser cutting machines, plastic molding machines, medical monitoring systems, PCB drilling machines, laboratory equipment, military instrument control centers etc.
Single Phase Transformer Applications:
step-down localized power distribution
television sets to regulate voltage
low voltage electronic devices
step-up power in home inverters
non-urban areas where electrical demand is lower
commercial and residential lighting and heating equipment
Model
3KVA
Phase
3-Phase or single phase
Capacity
3 kVA
Input Voltage
AC 380V
Input Current
1.5A
Output Voltage (Optional)
AC 220V, 200V
Output Current
2.6A (220V), 2.8A (200V)
Frequency
50Hz / 60Hz
Winding Material (Optional)
Aluminum Wire, Copper Wire
Cooling Method
Self-Cooling or Wind-Cooling
Working Efficiency
≥98%
Waveform Distortion
No distortion (compared with output wave)
Insulation Resistance
≥ 150MΩ
Wiring
Yn0
Electrical Strength
Power frequency sinusoidal voltage 3000V lasts for 1 minute, no breakdown and flicker
Overload Protection
Can withstand instantaneous 2 times the rated current
Moisture-Proof Type (Optional)
Open type, sealed type
Ambient Temperature
-20℃ ~ +45℃
Altitude
≤ 2500m
Relative Humidity
0-95%
Noise
≤35dB (within 1 meter)
Design Service Life
20 years
Use Environment
No explosion, rain and snow corrosion place, and no gas and conductive dust in the medium that can corrode metal and damage insulation
Weight (Enclosure Included)

Three phase auto: 23 kg
Three phase isolation: 36kg
Single phase: 30.5kg

Dimension

Three phase auto:  230*130*195 mm
Three phase isolation:  230*150*195
Single phase:  228*210*220
SHUOGONG is the best manufacturer of transformers and voltage regulators in China, you can choose standard transformer products or custom-made transformers and voltage regulators for special voltages.
3KVA Transformer Buying Guide
1. What is a 3kva transformer?
A 3KV transformer refers to a transformer with a total power of up to 3KV. Applicable to equipment or electrical appliances with a total power of 3KV.
3KVA transformers have the following categories: 
Single phase 3KVA transformer
Three-phase 3KVA transformer
3KVA isolation transformer
3KVA Autotransformer
2. How much is the price of 3KV transformer
Listed below are some of the 3KV transformer prices currently on the market. This does not mean the price of shuogong, if you need to buy a 3KVA transformer, you can contact us to get a preferential quotation.
3. What voltages can a 3KVA transformer convert?
The 3KVA transformer made by Shuogong can convert any voltage. No matter what input and output voltage you need, we can provide the best products.
We are manufacturer and we can customize 3KV transformers of any voltage according to customer needs.
For example 3kva transformer 480v to 240v, 3kva transformer 120/240
4. What are the 3KVA manufacturers ?
There are many transformer manufacturers all over the world, but transformers do not seem to have much brand effect. Common 3KV transformer manufacturers include Schneider and so on.
If you are choosing the right 3KV transformer manufacturer and supplier, Shuogong is a good choice. We have a strong R&D and manufacturing team to provide customers with affordable transformers through the integration and optimization of the supply chain.
5. How to choose a 3KVA transformer?
First of all, the load power you want for the 3KV token is heavy. If you have determined the power you need, then you need to determine your voltage.
Different countries have different voltages. So we must determine our own voltage, and then contact us for a quote.